KCP Contributor License
Latest update: October 9, 2019
This is the license for members of the KARDS Contributor Program only.
Everyone else, please check the Community Contributor License.
---

We love members of the KARDS contributor program ("KCP") and the awesome things they create and how they enable others within the KARDS community. We support contributors who use our intellectual property ("IP") to create fan projects ("Projects"). We generally allow Projects that follow the rules outlined below, but we can still shut down any Project at any time if we decide it misinterprets these rules, uses our IP inappropriately, or violates the spirit of 1939.
1. What can I develop with 1939 Games' IP?
TL;DR – You can create great content for the community to enjoy, with some exceptions.
On the condition that you follow all of the rules described in this policy (the "Rules") and the Terms of Use, 1939 Games (or "We") grants you a personal, non-exclusive, non-sublicensable, non-transferable, revocable, limited license for you to use, display and create derivative works based upon 1939 Games' IP, strictly for noncommercial use with the sole exceptions provided below.
We reserve the right to deny anyone the use of our IP at any time, for any reason or no reason, including when we decide, in our sole and absolute discretion, that you are using our IP inappropriately. If we deny you the right to use our IP, you must stop developing, publishing, or distributing your Project immediately. Additionally, we might revoke your KCP membership.
2. Can I create commercial Projects?
TL;DR – We allow passive ad revenue generation for some content, subscriptions and donations on streaming channels.
You may not create commercial Projects, including any Project that crowdsources any portion of its funding, any Project that involves a business or legal entity, or any Project where you gate the content with a paywall (e.g., Patreon, YouTube Premium, etc.) without a written license agreement from us. We have only two exceptions.
Exception 1: Passively Generated Revenue
We permit individuals to promote their Projects on websites, streams, or videos and passively generate revenue through donations, appropriate advertisements, including pre-roll ads, ad breaks, and sponsor ad overlays. No inappropriate ads—we alone decide what qualifies as inappropriate.

Exception 2: Gameplay Streaming
We permit individual players to solicit personal donations or offer subscription-based content while live-streaming games, so long as non-subscribers can still watch the games concurrently.
3. No unauthorized games or apps
TL;DR – You cannot create games or apps with our IP..
We prohibit the use of our IP in games and apps. Please do not take any part of our IP (e.g., card images, UI elements) and use it in a game or app.
To be clear: We do not allow any Projects on the Apple Store or Google Play Store unless they a written license agreement from us.
4. Do I need to create original content?
TL;DR – You need to have some original content and must not simply be a rip off.
Your Project needs to contain some original content and must not simply rip off existing content.
You may not use a third party's IP in your Project without their permission.
Don't steal other people's Projects; get their permission and give them credit.
Don't just rip off or add some light commentary to existing content (e.g., streamed matches, other players' blogs). Please make your own, original contribution to the community.
5. Can I use 1939 Games' logos or trademarks?
TL;DR – We don't want any confusion about 1939 Games and your project, don't use the 1939 Games logo or trademark.
Unless you have a written license agreement with us, you may not use any of our logos or trademarks anywhere in your project or on any website, advertising material, video, or other publication. You may not register domain names, social media accounts, or similar stuff that uses 1939 Games or any of our trademarks, trade names, etc. You may not use our trademarks or names related to our IP as keywords or internet search tags.
Instead, as a KCP member, you will be able to exclusively use the KCP logo for your Project.
6. Can I share my Project with the community?
TL;DR – Yes, please share your Project! Just let people know it is your fan Project and not a 1939 Games project.
Absolutely! Whenever possible, we will help you share your Project. If you share your Project with others, please conspicuously include the following notice (e.g., on your Project's website):
[The title of your Project] was created under 1939 Games' "Community content policy" policy using assets owned by 1939 Games.
Additionally, you can add the following line:
1939 Games supports this project as part of the KARDS Contributor Program.
You can also show the KARDS Official Contributor logo on your Project: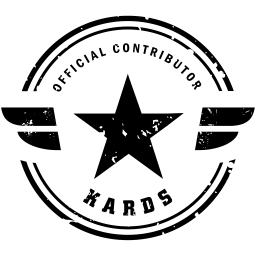 7. License to 1939 Games
TL;DR – In order to use our IP, you grant 1939 Games a license to your Project.
We want members of the KCP to create and share exciting things with each other. Please understand that we don't want to be sued when we spotlight and support your Project or if we create something that resembles what a KCP members has created. So you give us permission to spotlight or share your Project with the world.
More specifically: You agree that 1939 Games may use, copy, modify, distribute, and make derivative works of your Project in any form, on a royalty-free, non-exclusive, irrevocable, transferable, sub-licensable, worldwide basis, for any purpose and without having to credit you, pay you anything, or obtain your approval.
8. Confidentiality
TL;DR – We might ask you from time to time to keep information confidential and under an embargo for a certain time.
We might provide access to confidential information so that KCP members can better prepare content in a timely manner. Confidential information can include release dates, game graphics, game information, technical data, and anything else related to KARDS.
Unless you have written permission from 1939 Games, KCP members are not allowed to share confidential information with anyone outside KCP or 1939 Games.